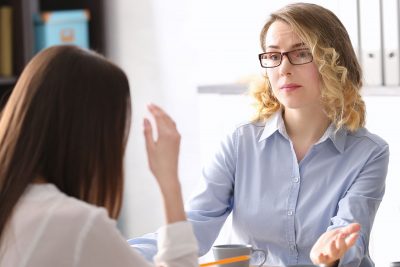 Last updated: 22nd November 2021
Facing a disciplinary hearing can be a daunting experience.
Your employer is entitled to discipline you if they have reasonable grounds to suspect you have done something wrong at work. When this happens it's important to understand what they will do and the best way to conduct yourself throughout the process.
This 5 point guide will help you navigate this difficult time, avoid some common pitfalls, and let you know the options available to you if you feel your employer did not follow the correct procedure, or treated you unfairly.
First, read your employer's disciplinary procedures
Disciplinary hearings must be held for all incidents of misconduct (even minor acts of misconduct), but it is important to note that a disciplinary sanction or your dismissal are not an inevitable outcome of this process.
In the first instance, prior to your disciplinary hearing, you must familiarise yourself with your employer's disciplinary procedures.
Where do I find those?
Your employer's disciplinary procedures will normally be contained within the staff handbook. In the event that you can't find your copy, you simply need to request a copy from your employer or HR department, and they will need to send you one.
What should I expect at the outset?
Depending on the nature of the allegation against you, your employer may start the process by inviting you to an investigation hearing in advance, giving you prior warning.
Alternatively, they may choose to call you into a meeting quite suddenly, informing you there and then, that they are carrying out an investigatory meeting.
At this meeting you can expect your employer to ask you a series of questions in order to get your initial response to the allegations made against you.
It is very important to note that you are not entitled to witnesses at an investigatory meeting.
Can my employer suspend me following an investigatory meeting?
In short, yes.
After you have been investigated (and in some cases beforehand), depending upon the seriousness of the allegations against you, your employer is entitled to suspend you.
If they do, they will normally send you a letter confirming your suspension (normally on full pay). In such circumstances you should then simply await further details as to when your disciplinary hearing is scheduled to take place.
Essential To Know
It is important to recognise that your suspension is not necessarily an indication that your employer believes you are guilty of the allegations made against you.
Your employer does not need to give much detail as to why you have been suspended.
One of the purposes of suspension is to allow your employer to continue their business operations without needing to be concerned of any potential disruption on your part.
Essentially, you are removed from the work environment whilst they carry out their investigations.
It is only when you are invited to your disciplinary meeting that you would then expect to receive more information as to what you have been accused of.
How much information should I receive before my disciplinary hearing?
At the point at which you are invited to attend your disciplinary hearing, your employer should give you copies of all the documents or other evidence (witness statements, CCTV footage etc) that they rely upon. This is in order for you to fully understand the allegations that have been made against you.
At this point, if you believe there is any other relevant information that you require, you should request it .
Furthermore, if there are any witnesses that you believe your employer should speak to prior to the hearing, you should invite them to in writing.
How much notice should my employer give me of a disciplinary hearing?
Your employer needs to give you reasonable notice as to when your disciplinary hearing is scheduled for. How much notice would depend on the complexity of the issues for discussion.
Essential To Know
You have the right to prepare your defence to the allegations made against you.
As such, your employer must give you a reasonable amount of time to gather your own evidence or witness statements in order to do this.
It may therefore be unreasonable if your employer only gave you 48 hours notice, as it is unlikely that you would be able to prepare in such a short time frame.
You should also be aware that if you justifiably feel you need more time to prepare, you can write to your employer to request a postponement of the disciplinary hearing.
Similarly, if you are off sick during this process, or for reasons out of your control cannot make the scheduled date, you can request that your employer postpones the disciplinary hearing.
Prior to your meeting you should carefully prepare your arguments against the allegations made against you.
Can I be accompanied to my hearing?
Although it is unusual, it is possible for you to arrange for a witness to be present at your hearing. If you wish to call on them to provide evidence in support of your defence, you should advise your employer accordingly.
You are also entitled to bring a colleague or union representative to accompany you. It is important to recognise that they are not there to make arguments on your behalf, or to give evidence. They are there to make an accurate note of what is discussed.
These days, employers are a lot more open to having disciplinary hearings recorded.
Essential To Know
You should not record your disciplinary hearing yourself without the prior permission of your employer.
So, who will be at my hearing?
This will largely depend on the size of the organisation you work for.
If it is not just you and your manager, you could expect some other individuals to be present, such as:
A representative from HR
Any witnesses
Your colleague or union representative
A note taker
But don't I have the right to have a lawyer with me?
We get asked this a lot.
So, whilst you have a legal right to be accompanied at your hearing, there is no statutory right for this to be extended to legal representation.
How to conduct yourself
It is very important that the notes from your disciplinary hearing demonstrate that you are a reasonable individual who has done their best to assist their employer in the disciplinary process.
You must tell the truth and generally be seen to be cooperating.
If you are antagonistic, argumentative, awkward, unreasonable or vexatious, this will not help you in any future Employment Tribunal proceedings.
Read our guide to understanding the Employment Tribunal for more information on pursuing a claim.
What happens after my disciplinary hearing?
Once your hearing has concluded, you will normally be advised that your employer needs some time to consider what was discussed before giving you their outcome.
In the meantime, they will send you a copy of the minutes from the meeting for your agreement and approval.
Essential To Know
The notes from your disciplinary hearing are not always verbatim.
So, if there is anything material that was discussed which does not appear in the meeting notes, you should politely point this out, giving your employer your best recollection of what was discussed.
Your employer will now need to make a decision as to whether they have found that you did commit the disciplinary offence/s and if so what sanction to impose.
There are a range of sanctions available to your employer
If your employer does find you guilty, they have a range of sanctions available to them, dependant upon the seriousness of the offence. They can:
Give you a first written warning
Go straight to issuing a final written warning to you
Demote you
Dismiss you
Alternatively, if they have decided they don't have sufficient evidence to find that you committed the disciplinary offence/s, they will normally inform you that they do not intend to take any further action against you.
Essential To Know
Your employer does not have to be 100% certain that you committed the disciplinary offence.
They only need to find, on balance of probability (i.e more likely than not, or 51% or more), that you committed the offence/s.
It is therefore possible for your employer to find you guilty, even if the evidence against you is quite flimsy.
It may be difficult to challenge their decision where your employer has reached a reasonable conclusion that you are guilty, as long as they have undertaken a thorough and even-handed investigation prior to your disciplinary hearing.
In providing their conclusion, your employer should inform you that you have the right to appeal their decision.
See my handy 4 point guide 'How to write an appeal letter and the appeal process' for more information.
If you want some quick and definitive advice about an upcoming disciplinary hearing, or find your appeal overturned and want to know your legal position, you can speak to me via one of my convenient Talk to Tom telephone consultations.
Alternatively, you can get in touch with one of our friendly and knowledgable team on 0800 756 6605. Or, submit your details 24/7 via our quick and simple online enquiry form and we will aim to respond to you within 48 hours via phone, text or email.
Where you have a viable case to advance at Employment Tribunal, we will look to represent you on a no win no fee basis.