If an employee is dismissed unfairly they may have rights to a claim for unfair dismissal compensation.
Being dismissed from work can be a very stressful time for anyone, especially if the employee feels that it was done unfairly.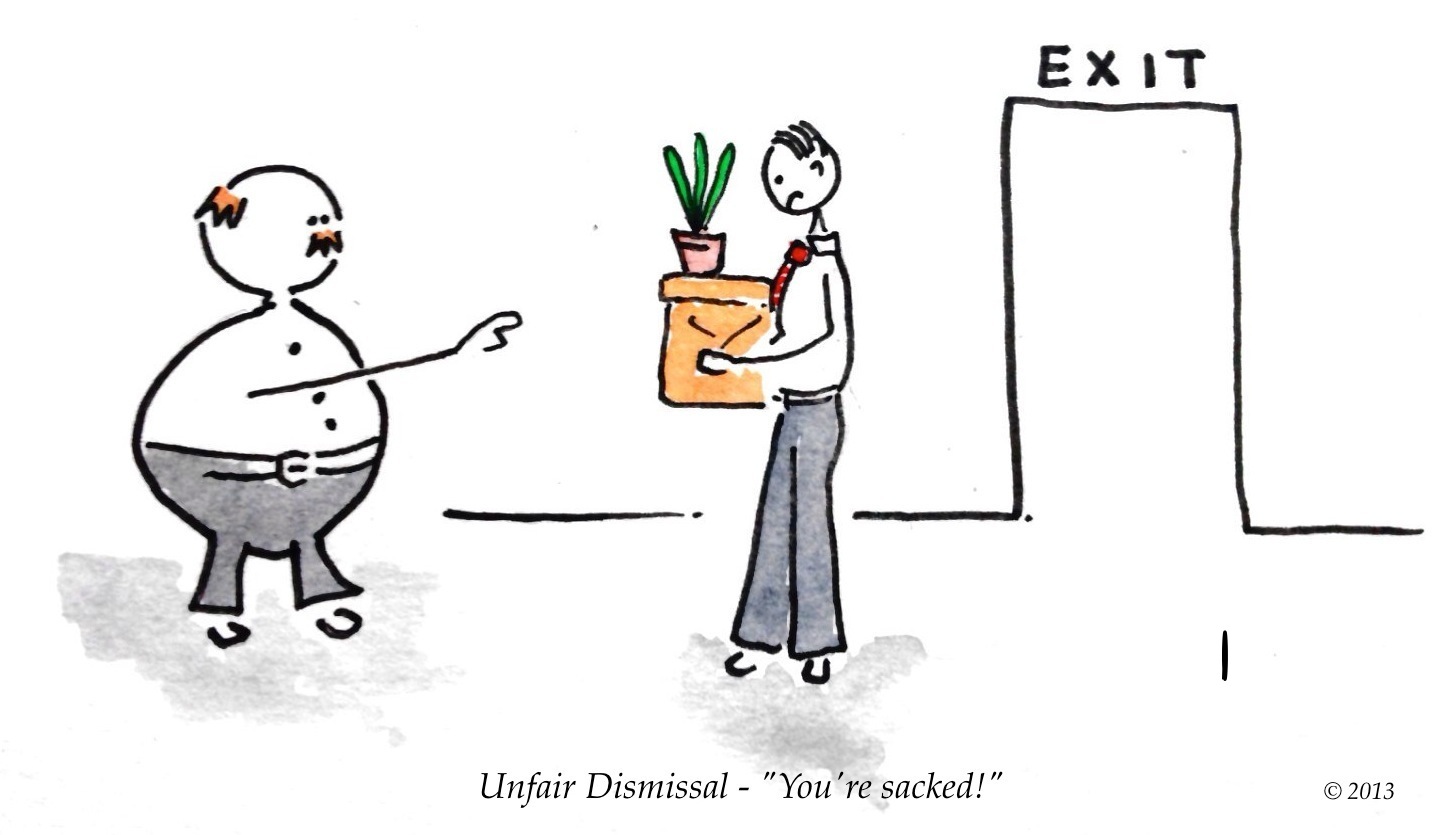 [wp-svg-icons wrap="i" icon="question" size="3em" color="#ff7c12″]
Please see our most frequently asked questions on unfair dismissal.
Unfair Dismissal Claim
You need to have been employed for two years in order to make a claim for unfair dismissal compensation.
If the employee does have the necessary length of service, the employer will need a potentially fair reason to defend the claim.
There are 6 potentially fair reasons, as follows:
Your conduct
Your capability or lack of qualifications
Redundancy
A Legal bar to your employment
Some other substantial reason to justify your dismissal
Retirement
Having said this, the employer needs to show that the process of dismissal was procedurally correct and fair.
The dismissal reasons that are most common are on the basis of conduct, capability and redundancy.
Conduct
Misconduct dismissals can be for a wide variety of reason, be it dishonesty, fighting, drug use etc.
In minor instances of misconduct, the employer should always consider warnings before leaping straight to dismissal.
However, if the employee has committed gross misconduct (one serious act of misconduct) they can be dismissed summarily (without notice).
The Employer must still ensure a fair procedure. They also need to have reasonable grounds of belief that the employee is guilty of the offence.
The employer must also ensure that it is within a range of reasonable responses to dismiss.
Capability
If, the employer feels the employee is not doing their job correctly they can be dismissed. The employer, however, needs to ensure the correct procedure is followed.
The employer must give the employee an opportunity to improve their performance. They can do this, either via training or allowing them to gain further qualifications.
If training has not been supplied or a chance given for the employee to improve, it's doubtful the dismissal will be seen as fair.
Capability based in ill health
If the capability reasons are down to the health of the employee then the employer again needs to make sure they go through the correct process.
In this case, finding out how long the illness is likely to last and the long term impact it is likely to have.
Before an employer decides to dismiss the employee they should also consider if there is any alternative work for the employee to do.
Redundancy
In the current state of the economy, this is one of the most common reasons for dismissal that will be encountered.
Redundancy happens when the employer no longer needs or can no longer afford the employee. This can be challenged if the employee believes:
the redundancy is not genuine (i.e. the work is still available for the employee to do);
that they have been chosen for redundancy due to an unacceptable reason (the best example being that they say they are pregnant and are then chosen for redundancy) or;
the employer has failed to act fairly.
With regard to fairness in redundancy situations there are several key points that the employer needs to follow. These are summarised below and can be found in more detail here.
Key points to a fair redundancy process
Early Warning – the employer must give as much warning as possible to the employer;
Union Consultation – the employer must consult with the union, if there is one;
Fair selection criteria – the selection criteria should be fair;
Fair selection based on the criteria – the employer should make the selection fairly based on the selection criteria;
Alternative employment – the employer should consider all alternative employment before making the decision.
Legal Bar to Employment
If an employer can no longer employ you because doing so would mean that they are performing illegal activities.
For example if you are employed as a driver and you have lost your driving licence due to a driving conviction then it is potentially fair for you to lose your job in this respect.
Having said this, the employer should look for alternatives forms of employment before going down the route of dismissal.
Retirement
Prior to September 2011, the retirement age was 65 years old. This has since been abolished.
An employee who hits the age of retirement cannot, now, be dismissed by their employer.
The employer is, however, able to include a clause in the employees contract stating that when the employee reaches a certain age, they have to finish their employment.
The employer does need to justify this decision to make people retire in relation to a legitimate business aim.
Without this, it might be tricky for an employer to to defend the decision to make people retire.
Some Other Substantial Reason
This is quite a wide ranging defence, but what it boils down to is that to protect his business, the employer has to get rid of a certain employee.
For example
if the employee is refusing to a variation in their contract which is fundamental to the business.
Or, if there is a breakdown in trust between employer and employee there might be an argument that there is SOSR for the dismissal.
However, the employer needs to make sure that the reason is a strong one otherwise it is likely that it will fail.

How much can an employee claim for Unfair Dismissal?
The amount an employee can claim for unfair dismissal compensation depends on various factors. Please see our unfair dismissal calculator to see how much you can claim for.
Unfair dismissal compensation – what next?
If you have been dismissed by your employer and you feel that it is unfair, you may be able to claim unfair dismissal compensation.
Please do not hesitate to get in touch with us on 0800 756 6605.
We will be able to advise on whether your case is one that could potentially be taken forward on a no win no fee basis.
---