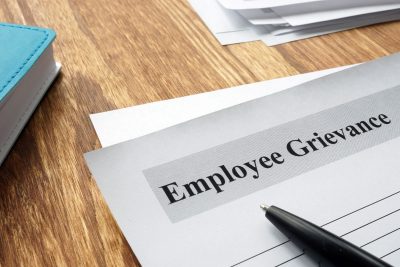 Last updated: 26th November 2021
If you are unhappy with something at work, you are entitled to raise a grievance with your employer.
If you have a complaint, problem or concern at your place of work you may wish to raise a grievance with your employer to get it resolved.
Whilst this is not a legally binding process, failure to follow the correct procedure may affect the outcome of any claim your later advance at the Employment Tribunal.
This comprehensive guide will help you understand the process you will be expected to follow, some 'Essential to Know' pointers and tips that you can use when dealing with your employer.
Before you start, get hold of a copy of your employer's handbook
At the very least, employers are expected to follow the ACAS Code of Practice on disciplinary and grievance procedures but in the majority of cases an employer will have their own procedure they will expect you to follow.
This will be set out in your staff handbook within the grievance and disciplinary section.
What should I expect to find in my handbook?
Your handbook should provide information on:
Who to address your grievance to
How to compile your details
How to appeal your employer's decision
How long each stage would normally take
If you do not have a copy, you should politely request one from your employer and read it carefully to understand what is expected of you.
Do not assume you need to raise it formally at the outset
You will probably find your employer's grievance policy encourages you to try and deal with your complaint informally in the first instance.
Unless your complaint is of a serious nature, you may feel able to do this. In this case, write a simple letter or email to your employer (or your HR department) setting out details of what you are unhappy about.
Be sure to inform them that you would like to deal with it informally, if possible, at this stage.
In a situation where you felt unable to raise your issue with your immediate line manager, you could approach someone else in a position of authority within your organisation and explain your concerns.
You will probably find that your employer will appreciate that you are attempting to resolve the matter informally, and should acknowledge receipt of your correspondence. They should then advise you as to how they propose to deal with the issue, possibly by way of an informal meeting with you and anyone else who may need to be involved.
If however, you feel the matter is too serious to be handled informally, or the informal process does not solve the issue, you may need to escalate to a formal grievance.
Essential To Know
Before drafting your letter, you should keep in mind that should you later advance a claim at Employment Tribunal, the contents of your grievance letter may be an important document to support it.
Therefore you should make sure it:
Clearly sets out the nature of your complaint
Briefly outlines any evidence you rely upon
States the outcome you are hoping to achieve
Is proof-read and contains no typographical errors
You may find it useful to view our example of a grievance letter below to give you a structure to work to.
Some examples of situations that may require this action
Some of the more common circumstances under which you may wish to raise a grievance, can include:
To address Health and Safety concerns
Experiencing bullying and harassment
Not being considered for a promotion when you feel you should have been
Being subjected to organisational changes or new working practices
The manner in which you are being treated at work
Things you are being forced to do as part of your job that you are not happy to do
Where you are experiencing discrimination in the workplace
Constructing your letter
As standard, be sure to include your name, contact details and address alongside your employer's full name and address.
Overall, I would recommend:
Sticking to the relevant facts.
Keeping it unemotional
It is not too long
Do not ever use abusive or offensive language and avoid disrespecting the recipient of your letter, as this will only harm your position.
Tom's Tip
Keep it concise!
In terms of length, it should be possible to set out your grievance in sufficient detail within 1-2 sides of A4.
In my view, anything longer than this places an unnecessary burden on your employer. This could possibly undermine the impact of your grievance.
Remember, this letter is your way of setting out, in summary, what you are unhappy about. You will, in due course, be given the opportunity to elaborate on the detail at your grievance hearing.
Another very important thing to remember is where you can, you should always attach dates to the issues you are complaining about, along with details of any witnesses who could support them.
This enables you employer to understand exactly what happened, when and who they need to speak with when they look into your matter.
Important details that you should mention, include:
Exact dates, times and places of incidents relating to your complaint
If unable to provide exact dates, you should mention an event that occurred around it. For example, a few days after the company outing to.
Names of people involved
Where you work for a large organisation, mention the names, designations and departments of the people involved in your matter
Details of witnesses
Outline the evidence that supports your complaint
Where you are complaining about pay, disclose what you think you should be paid
Report events in chronological order
If you have already tried to resolve this informally, mention this in your letter
Offer a solution for your employer to consider
Where you offer up a potential solution to your grievance, ensure you keep your expectations reasonable. Don't forget you are ultimately trying to resolve an issue.
Finally, sign and date your grievance letter.
What happens once they receive my letter?
Once you have submitted your letter to the appropriate individual or department, you should receive an acknowledgement of receipt alongside an indication as to how your employer proposes to deal with your grievance.
It would be normal to expect them to confirm that they wish to undertake an investigation into your complaint. As part of this, your employer may want to hold an investigatory meeting with yourself and other members of staff.
Once their initial investigation is completed, they will normally hold a formal grievance meeting with you.
Sometimes an employer's grievance policy will specify a time frame within which they would expect to hold a grievance meeting with an employee. However, if there are extenuating factors this can be extended i.e your grievance is complex, or unavailability of witnesses for example.
Preparing for your grievance meeting
In the spirit of transparency, you should share all information and/or evidence that you have in your possession, connected to your grievance.
You should be prepared to give further information at your hearing, if requested to do so.
Essential To Know
When you are invited to your grievance hearing, your employer should remind you that you have the right to be accompanied by a colleague or union representative.
Prior to the meeting, if you require any witnesses to be available to answer questions, you should ask your employer to arrange this.
What should I expect after my grievance hearing?
Your grievance hearing should last approximately 1 to 2 hrs at most. It would be quite normal for your employer to then advise you that they require some additional time before reaching a formal decision on their findings.
Broadly speaking, your employer has 3 options in relation to your grievance (or each of the grievances you have raised). They can either:
Uphold your grievance i.e side with you
Dismiss it
Or, partially uphold it. (This means your employer accepts your grievance but only to some extent.)
If your grievance is upheld by your employer
Where your employer has concluded that your grievance should be upheld, they will normally indicate what action they intend to take to remedy the issue/s you have raised.
At this point, they should ask you to confirm that you are happy with their recommended course of action.
If you are happy with it, this would constitute a good outcome for you as your employer is taking action to resolve your grievance.
What if it is dismissed?
As is sadly often the case, should your grievance be dismissed by your employer, or only partially upheld, you can choose to accept their decision or appeal against your grievance outcome.
You have the right to appeal and if you choose to do so, you are normally required to make your appeal within 5 working days.
If you wish to appeal you should again write a relatively concise grievance appeal letter, setting out why you believe the original decision was unfair.
To assist in this, feel free to use our Grievance Appeal Letter PDF below as a guide.
What happens when I submit my appeal letter?
As per your original grievance letter, once you have submitted your appeal letter, your employer will schedule an appeal meeting.
Will my appeal hearing be different from my original grievance meeting?
Normally, yes.
Your grievance appeal hearing should be chaired by a different member of staff than the person who dealt with your original grievance.
Again, your appeal hearing should be scheduled to take place either within the time frame stipulated in your employer's grievance procedures, or within a reasonable time period.
At this meeting you will be given the opportunity to argue your case again.
Your employer will then reach a final decision. At this stage they may uphold, dismiss or partially uphold your appeal.
Once this is confirmed there are no further options available to you, so you will have to either:
Accept your employer's decision and carry on at work as best you can, in spite of their decision
Or alternatively, you may feel that the outcome leaves your position untenable, leaving you no choice but to hand in your resignation.
If you resign, you may wish to pursue a claim against your employer for constructive dismissal. If you are considering this you should read my '10 essentials you need to know before pursuing your claim for constructive dismissal'.
Tom's Tip
There may be an alternative course of action available to you, other than resigning.
If you already have a claim that has crystallised (for example, where your grievance is about discrimination at work and your grievance has been dismissed), instead of resigning you could register your case with ACAS Early Reconciliation to see if their involvement can produce an outcome you are happy with.
Remember, if you wish to advance a claim at Employment Tribunal strict time limits apply. You can use our Limitation Date Calculator to work out your limitations dates.
You only have 3 months from the date of the thing that you are complaining about (date of discriminatory treatment, date of unlawful deduction of wages, date of dismissal) to commence the tribunal process.
Essential To Know
Do not allow your grievance and/or grievance appeal process to make your case 'out of time'.
If you want some additional advice about raising a grievance with your employer, or find your appeal overturned and want to know your legal position, you can speak to me via one of my convenient Talk to Tom telephone consultations.
Alternatively, if you believe you have a viable case to pursue a claim at Employment Tribunal, you can get in touch with one of our friendly and knowledgable team on 0800 756 6605. Or, submit your details 24/7 via our quick and simple online enquiry form and we will aim to respond to you within 48 hours via phone, text or email.